Boy Builds Adorable Ice Cream Shop to Raise Funds for Sick Children
When 5-year-old Haylen Astalos' mom asked him if he wanted to take the summer off from his selfless hobby of selling treats from his ice cream stand to raise money for sick children, the boy had a blunt response.
Read More >>
_________________________________________________
Officers Give Basketball Hoop to Neighborhood Kids Playing Without Backboard


Three Ohio police officers gave a big assist Friday night when they gave neighborhood children a new basketball hoop.


"This was something that was basically from their hearts," Chief Jim Toles of the Lockland Police Department in Lockland, Ohio, told ABC News. "We're trying to show respect to them [the kids]. We want them to respect us and we are trying to teach them the rights and the wrongs. We try to let them know that we are here to be their friends, not their enemies." Source -
Yahoo !
_____________________________
Meet America's Oldest Active Park Ranger, Betty Reid Soskin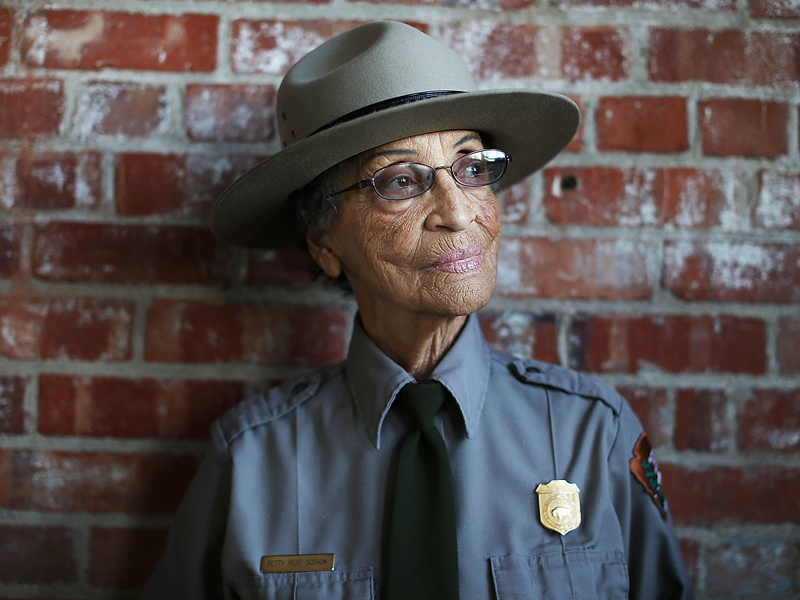 Reid Soskin, who began her career as a ranger at age 85, was profiled by the Today show over the weekend, and the segment showed her leading tours at the Rosie the Riveter/World War II Home Front National Historical Park in Richmond, California. There, she tells guests about the women who worked in the Richmond Shipyards during World War II, building cargo ships.
The segment has made the rounds online, but it wasn't the only moment in the spotlight for Reid Soskin this year. In March, in honor of Women's History Month, the U.S. Department of the Interior interviewed Reid Soskin about her service for the park service and her life.
There, she explained why her tours have become so popular. "We're booked two months ahead at this point," she said. "My tours are popular because – though I am not a trained historian – my tours are necessarily a way to share my oral history with the public. I tell the story of the African-American workers." Source- People
_
_____________________________________________
Candy Chang
After Candy Chang lost a loved one, she began dealing with her grief in an unconventional way, painting the wall of an abandoned building in her New Orleans neighborhood. She turned the outside into a chalkboard that said: "Before I die I want to _____." Within 24 hours, the entire wall was covered. Chang said she couldn't believe the response. The campaign has since gone international, with chalkboards set up in some pretty unexpected places for people to fill in all throughout the world. "It's easy to get caught up in the day-to-day and forget what really matters to you," states a description on the "Before I Die" website." "[Chang] wanted a daily reminder and she wanted to know what was important to the people around her." (New Orleans, LA) Source-
Thedailyst


------------------------------------------------------------------
West Virginia Cop Cares For Baby He Rescued From Grocery Store Bathroom
A photo of a St. Albans, West Virginia, police officer cradling a 14-month-old baby girl is touching the hearts of many on the Internet because of its heartwarming backstory.
St. Albans police Sgt. Philip Bass, pictured in the photo, was part of a group of officers who saved the baby early Monday morning, when Kroger grocery store employees heard her crying inside a locked bathroom in the store.
Read More
_________________________________________________________________________________
California Firefighter Gives His Shoes to Barefoot Homeless Man
A California firefighter and his captain are being praised for pulling their fire truck over to give a pair of shoes to a homeless man walking barefoot on a highway.

Read More
Faith In Humanity Restored Stories, random acts of kindness, random acts of kindness stories, inspirational kindness stories, examples small acts of kindness, examples of random acts of kindness, kindness stories , faith in humanity , faith in humanity restored,